GTA
OPP charge 12 after investigation targeting drug traffickers linked to organized crime
A dozen people are facing charges for 81 offences following a provincial police investigation targeting high-level suppliers who provided organized crime groups in Ontario and Quebec with drugs.
The nine-month investigation led by the OPP's Organized Crime Enforcement Bureau was dubbed project Daytona.
It was aimed at cutting off the key players who feed illegal substances to organized crime groups who in turn distribute them to mid-level drug dealers and gangs, according to investigators.
"These are the individuals who would have provided drugs to street gangs, outlaw motorcycle gangs, as well as organized crime groups in all the communities," explained Supt. Bryan MacKillop, director of the OPP's organized crime enforcement bureau.
"These are the key facilitators, the ones that tend to remain standing even when we do target the lower-level drug dealers."
The investigation culminated with raids in Hamilton and Burlington on Jan. 22 as well as warrants executed in Ottawa, Carleton Place, Smiths Falls, Perth and Gatineau, Que. the following day.
Eleven people were arrested and MacKillop said a warrant has been issued for the outstanding accused.
Among those taken into custody were residents of the Hamilton, Stoney Creek, Smiths Falls, Perth, Kingston and Gatineau.
A total of 8.5 kilograms of cocaine, nine kilograms of methamphetamine, four kilograms of ecstasy, 8.5 kilograms of cannabis concentrates, 45 kilograms of cannabis and about $30,000 in cash, said the OPP.
Cocaine 'as pure as it can get'
The drugs are of a quality the OPP has "never really seen before," said Det. Insp. Peter Donnelly, who pointed to the cocaine and methamphetamine in particular.
The cocaine is as "pure as it can get," said Donnelly, noting that points to the high-level of the arrests and investigators are working with the DEA and other agencies to track down where it came from.
He added the street value of the drugs is "alarming" and estimated it to be in the millions.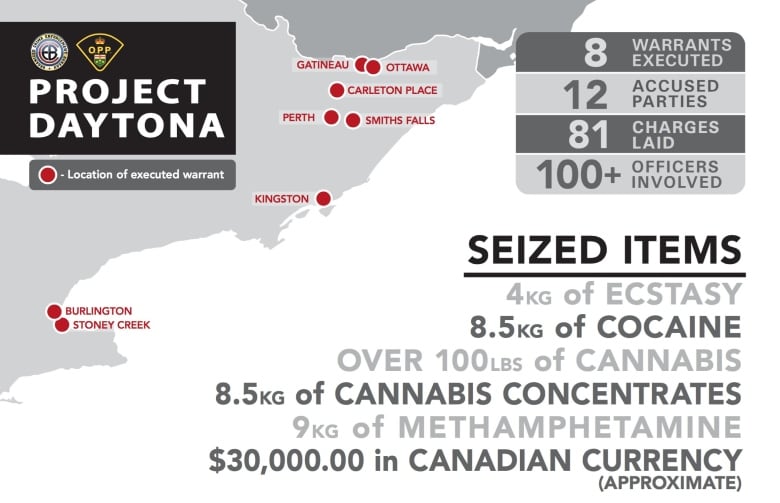 Donnelly said the 8.5 kilograms of cocaine police seized could be 'stepped on' several times and "easily doubled or tripled for street-level drug sales."
We have prevented a potential 20-plus kilos of cocaine from being trafficked in our community," he added.
OPP says cannabis lucrative despite legalization
The OPP also noted the large amount of cannabis they confiscated, saying it shows there's still a lucrative illegal market for pot even though it has been legalized.
When asked whether provincial police have seen the quantities of cannabis they've seized drop since legalization, Donnelly said no.
"We still see it being moved continually by illegal groups," he said, indicating a pile of cannabis captured during the project.
"That's an awful lot of cannabis sitting there and it's worth a lot of money."
Investigators say one thing that makes Daytona different from other organized crime projects was its focus on the top of the food chain rather than low-level busts or a single crime cell.
Donnelly said the goal was to cut off the supply at the top.
"We wanted to eliminate the source."
That meant using intelligence from sources to zero in on a group of suspects who weren't connected to each other, including some who didn't have criminal records.
"What do they have in common? Police investigating them, drug trafficking, greed and a complete and utter disregard for public safety," said MacKillop.
He described the targets as "influential drug traffickers" and said the project has "destabilized these drug-trafficking networks and there will be a radiating effect experienced by the criminals who relied on these key facilitators."
CBC
Redes Sociais - Comentários